From delivering life-saving assistance in the wake of the Hunga Tonga-Hunga Ha'apai eruption to supporting Ukrainian refugees with shelter and education needs, Australia Assists deployees helped communities across the globe prepare for, respond to and recover from crisis and conflict. The Australia Assists FY22 Annual Report outlines the impact and progress in the fifth year of the Program.
The most impactful year to date
In FY22, Australia Assists expanded its reach across the Pacific, Asia, the Middle East, Africa and Europe, deploying 102 experts to 31 nations - the highest number of countries to date. Working with 27 partners, including the United Nations, government, regional multilateral and civil society partners, Australia Assists provided humanitarian assistance that addressed the whole disaster cycle of preparedness, response and recovery. In addition, expert technicians were deployed into 11 new host countries for the first time including into Syria.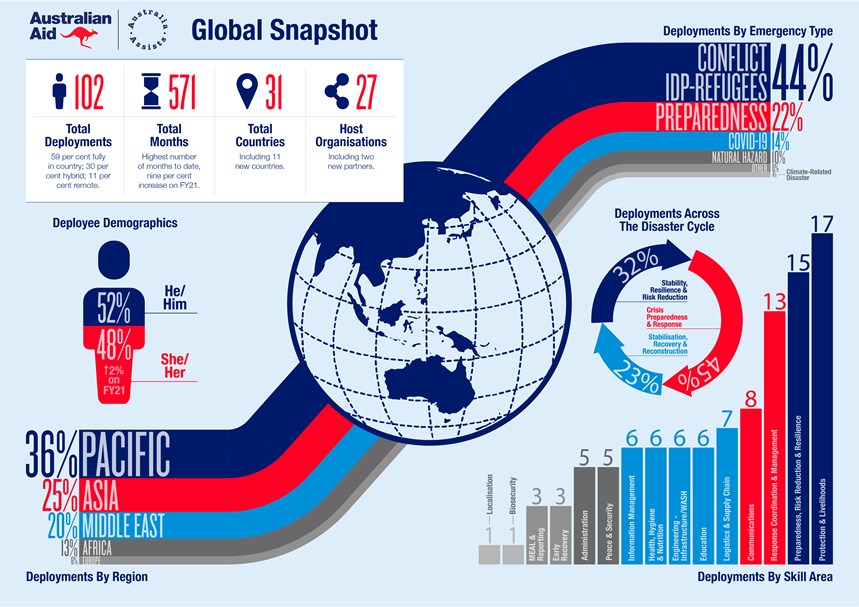 Unprecedented demand
As health systems continued to feel the strain of the COVID-19 pandemic, Australia Assists has supported our regional neighbours in Asia and the Pacific. Nineteen deployments focused on improving health outcomes for communities, including infectious disease outbreak support to Pacific Islands and health systems preparedness in Asia.
When the war in Ukraine escalated in February 2022, Australia Assists deployed four specialists to provide refugees with shelter, education and child protection assistance, as well as data support to ensure people were counted and supported.
In the Middle East, 20 specialists assisted with multiple protracted crises in the region, focusing their efforts on crisis response, resilience and recovery.
In addition, 13 specialists deployed to Africa, to support emerging needs such as the conflict in Tigray and protracted crises in Nigeria and Sudan.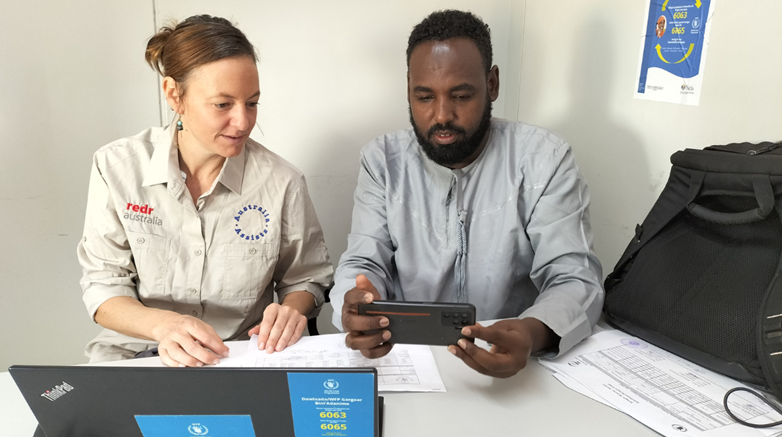 Australia Assists deployee Suzanne supported World Food Programme in Ethiopia as a Cash Based Transfer (CBT) Specialist.

The power of local expertise
Australia Assists continued to harness local expertise and drive locally led initiatives in FY22, with more deployees than ever having a cultural or linguistic affinity with their country of deployment.
This included deployees like Tongan national Viliami, who supported NEMO Tonga as a Cluster Coordinator. After the Hunga Tonga-Hunga Ha'apai volcanic eruption on 15 January 2022, Viliami coordinated actors on the ground to ensure relief reached affected communities.
"I'm grateful and blessed to assist our own people." Australia Assists deployee, Viliami.
Australia Assists also supported the delivery of 13 humanitarian training courses in Fiji, Jordan and Australia. This opened the doors for 114 local experts to join the roster and deploy through the Program in the future, further contributing to Australia Assists' localisation goals.
New targets met
This year, Australia Assists deployees worked to reduce violence against women and enhance the voices of women and people with disabilities, accelerating progress against gender equality and disability inclusion targets. A total of 22 specialists were deployed into targeted gender equality, disability inclusion and protection roles and 100% of Australia Assists Gender Action Plan (GAP) targets were achieved.
"The deployee's work built UNOPS capacity around disability inclusion in our workforce, and specifically helped ensure that our Gender, Diversity and Inclusion Strategy is robust and validated from a disability inclusion perspective." - Deployee supervisor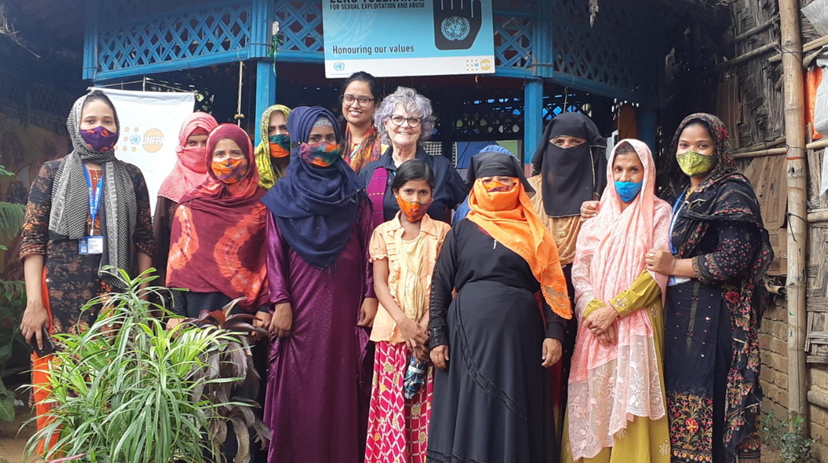 Australia Assists deployee Marguerite supported UNFPA in Bangladesh as an Inclusion Specialist.
The Australia Assists program continues to grow; reaching new people in more locations. The demand for diverse deployee skillsets is also growing as the value of their expertise and knowledge sharing makes a measurable and sustainable impact around the world.
While the Humanitarian mission continues to shift, Australia Assists remains strong and resilient in the face of need.

To learn about Australia Assists full impact in FY22, read the Annual Report.